It is very important to learn English idioms to understand native speakers and be able to speak English fluently. Because there are lots of phrasal verbs and idioms in English and they have different meanings.
So you should learn real English with many idioms, slang and phrases. Watch below video from Everyday English course rule 5 by Joyce Martens. In this video English lesson you will find out importance of learning English idioms.
Learn English Idioms And Phrases
Everyday English course rule number 5: Understand that the English language uses many idioms. These expressions only have meaning when you understand them as whole complete phrases. The individual words do not meen what the dictionary says they mean in those phrases.
They have their own meaning when they are used as idioms. And idiom is a group of the words that has a new meaning. Different than the seperate words have individually.
For example, "my leg is killing me". What happened. I fell donw the stairs. I hurt my leg. My leg is killing me. You say this when a part of your body hurts very very much. It doesn't mean anybody's been killed Learning English.
Or another example, "Get cold feet". I have got cold feet about starting my new job. I am thinking of telling them to find someone else. To get cold feet means to get so nervous about starting something new that you think about not doing it.
Or another example, "deep down". Look at how they are all sitting there smiling at each other. But deep down, they really don't like each other. Deep down means, deep in your heart. Your true feelings.
English speakers use many many idioms. And you must learn to recognize them. And to learn the meaning. These are very important expressions in English language. And you will never sound natural or fluent until you learn to use these phrases correctly and intuitively.
Many of these expressions are connected to English culture and values. And so understanding idioms will give you insight into the culture of English speakers.
Learning English Idioms Course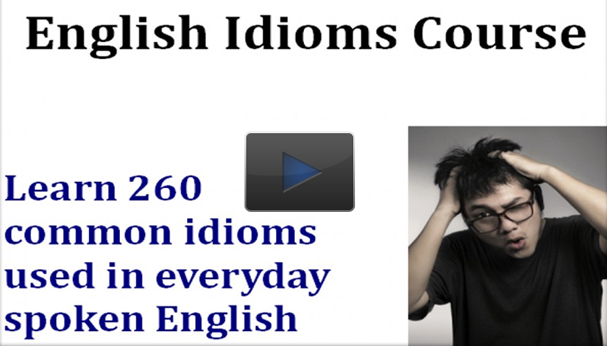 You may also interested in learning English idioms course. This is very helpful to learn 260 common idioms used in everyday spoken English. Click here to view more details!
Everyday English Learning Lessons:
Everyday English rule number 4: Think in English. Don't translate the ideas in English, into your language. Use the English language that you know to understand English. If you train your mind, to understand ideas in English, you will learn natural English much quicker.
First try to use an English-English dictionary before you use a bilingual dictionary. All the words that you use to try to understand English, should be English. This will be easier to do if you follow rule number 1. Listen to English everyday that is easy to understand.
Choose to listen to language that you can understand at least 60% of what you listened. Don't translate the words into your language. Keep thinking in English. Try to remember the language you already know. Think of English words that you know that have the idea that you are thinking about. Exercise your brain to remember the words, phrases and sentences.
When you practice rule number 2 you are understanding the music of English. And when you practice rule number 3, you are finding the words that you stored in your brain through repetition and you are recalling them or remembering them.
To speak English easily and naturally you must train your brain to think in English. Do not translate the ideas into your own language. Practice thinking in English. This will be difficult to do at first and you may think it is impossible.
You may say Joyce, i can not think in English. I must translate it into my own language. And I will say okay, i understand. I know it is difficult at the beginning. But you can make that a goal. You can tell yourself i will try to think in English as much as i can. And someday soon, i will not translate the words in my mind anymore. I will understand the ideas in my head in English.
Here is the encouragement. You know more than you did yesterday. You are preparing and studying. You will succeed.
The stories on the learnenglishenglish.com website, are designed to make you think in English. I will tell you a story. In the story, i will ask questions. You must answer the questions as quickly as you can. This will make you think in English. The questions will be very simple.
Here is an example: Anna went shopping at the mall yesterday. Did Anna go shopping the mall yesterday? And you say YES!.  Who went shopping the mall yesterday? And you say ANNA! When you answer the questions quickly in English, it makes your brain think in English naturally. You won't translate into your own language with these easy questions. When i ask a question, you will answer outloud. Speak loudly and answer the questions quickly.
Click here to view more details!
Listen And Answer Mini Stories
You may also interested listen and answer mini stories of Effortless English club. This is very powerful method to learn speaking English automatically. Watch Effortless English rule number 7 to learn how to use this listen and answer lessons.
Learning English Lessons:
Rule number 3: Repeat, repeat, raepet out loud. Repetition is the key to learning new vocabulary. In order for your brain to remember a new word, you must see and use that word at least 16 different times. That means that you must encounter that word many times in different ways before your brain can remember the word automatically.
So you must practice repeating each word many times. And you must say the word out loud. you must say the word out loud so that you can hear it and you must say the word in a phrase or sentence.
You can learn English phrases and whole sentences. Also use your mouth effectively. Your mouth has many muscles. Just like practice using your leg muscles everyday if you want to ran fast, you must use the muscles in your mouth everyday to say the English words in the English way.
The muscles in your mouth have to be trained to move in the right way to make English sounds. It does not help the muscle in your mouth if you only read English words, no. You must say the words everyday. You must say the English words you want to learn and help your brain remember them even better, you must say the words in a phrase or in a sentence.
Look in the mirror as you say the words and watch your mouth. Wacth the shape of your mouth when you say the words exactly the way you hear the words. Practice until you get the sound right. Your muscles will begin to maket he English sounds easily.
Click here to view more details!
When you practice speaking English in front of a mirror, it will also help you get over your fear of saying English words. You will be confident producing English sounds. Everyday when you stand in front of the mirror say some new English words. You will automatically be able to say the words. You will be able to notice how to move your mouth and your lips and your jaw.
Do you have tanguage in your language, phrases that emphasise specific sounds. Most languages do and English does too. Look at my mouth when I say these common phrases.
How much wood would a wood chuck chuck if a wood chuck could chuck wood. The would sond in English is a difficult sond for many English learners to make. You can't make the sound if you don't round your lips in the right way.
What about this one: Peter piper picked a peck of picket peppers. The pi sound requires that you press your lips together. And then release them with a puff of air. Did you know that the pi sound in English has no sound? Only air ph.
Try this one: fuzzy wuzzy was a bear fuzzy wuzzy had no hair. Can you say that? The zzz sound can also be difficult for learners of English. Practice repeating words and phrases out loud so that you can hear them everyday. In that way, you will memorize new vocabulary words quickly and naturally. And you will exercise your mouth muscles so that your mouth will quicly and naturally pronouns the English words correctly.
Click here to view more details!
Everyday English Learning Program: