What is the connection between learning English and learning to ride a bike? Is is a strange question but watch this short video and I will give you some important information about how Deep English can help you speak fluent English understand native English speakers and use English with confidence.
How To Become Fluent in English
Do you remember how you learned to ride a bike? Think about it for a minute. Remember going to bicycle school? Remember all those big heavy bicycle textbooks?
Remembe all the bcycle rules you studied over and over? You don't remember, do you? Well we neither. No one learns how to ride a bike by studying. You learned ride a bike by doing.
You fall and you try again. Each time you fall, you get a little better. Your balance improves and day by day you become more confident and more successful until one day riding a bike becomes easy. You learn by doing and English is the same way.
What are you doing to become fluent? What are you doing to better understand fast English? What are you doing to speak more confidently?
Taking the correct action is the key to successful English. If you want to become a better speaker, you need to speak more. And if you become a better listener, you need to listen more. This is something that even many teachers don't know. They want you to learn by memorizing. They want you to learn by studying grammar rules.
That's great for beginnners, but you are not a beginner. Successful learners know that you don't become fluent by studying. You become fluent by doing. This means using English. Really using English builds experience and this experience makes you a better English speaker.
Now I want to be clear about what you will learn, and what you won't learn with these lessons. With the Deep English fluency course, you train your ears with slow and fast speed active listening story lessons.
You improve your speaking with active speaking lessons. You learn grammar with our grammar focus lessons. You will be using grammar, not studying grammar. If you improve your riding, you are in the wrong place. We don't focus on riding. We focus on listening and speaking because focused action is the quickest way to make you more fluent. The Deep English fluency course guides you to take focused action that produces results.
Practicing your English without a partner is a big problem. Deep English has the answer. With active speaking stories you can improve your speaking skill even when you are alone. These are not the same boring listen and repeat lessons that other companies have.
With our active speaking lessons, you don't just listen and repeat. Listen and repeat is not real speaking. In these unique story lessons, you talked to the storytelller. With Deep English you always have someone to speak with. Increasing your actual speaking time is the only way to improve your speaking.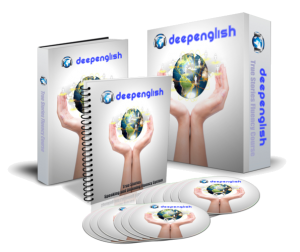 Because you can put these lessons on your computer and your mp3 player, you can improve your listening and speaking anywhere, anytime. While you drive to work. When you are cleaning the house. When you are cooking, when you excercise.
With mp3 audio lessons, finding time to practice and taking action on your English goals is as easy as one, two, three. Press play, listen and speak. It really is that easy. When you buy this course, you download everyting to your computer. You don't need to wait for the mail. You pay one time and you get all the lessons today. That's over 120 listening and speaking lessons.
Now before you decide, I want to tell you about the guaranty. The Deep English fluency course will make you a better listener and better speaker or you get your Money back. We want you try this %100 risk free. If you decide the program is not right for you contact us anytime within 60 days and get your Money back.
You are at the crossroad here. You have 3 choices:
You can do nothing.

Keep studiying the old way

. But you will never get the English fluency you want.
You could move to and English speaking country and really surround yourself with English. If you have the time and Money do it. But for most people that's just not possible.
Try Deep English %100 Risk free and start wining the advantages and respect the confident speaking fluent English.
The choices for yours. But I hope you can see there is a better way to learn and you can do it. If you have any questions, click here and email us anytime. We would like to hear you and we are here to help.
Life is short, what are you waiting for? Master the English skills you need to travel, make friends adn do business with confidence. Go to deepenglish.com and start today.
Click here to view more details!
Learn Deep English Lessons:
Today, we offer a new mp3 english listening lesson. "Learn English Mastery Formula" Click below download link and select save as and download your free mp3 lesson. Listen this mp3 lesson several time each day for one week. And you can find text of the mp3 lesson below.
Download Link: Click here to download mp3 lesson!
To learn English, or any other skill, follow "The Mastery Formula".
What is the mastery formula?  Well, I follow a very basic "mastery formula" whenever I'm determined to truly master a skill.  For example,  I use this formula for Business, for Music, and for Health.
Here's The Learning Formula for Mastery:
1.  Find an OUTSTANDING coach, mentor, role model, or teacher.
2.  Practice "CANI" (Constant And Never-ending Improvement)
3.  Learn Intensely
(Alternate & Repeat 2 and 3 forever)
That's it!  Very simple but extremely powerful!
The first step to mastering anything is to find a truly outstanding coach or role model or teacher.   This is actually not easy.  Most teachers (by definition) are mediocre or "average".    In fact, I've found that in every field of study I have pursued, 99% of the teachers range from bad to mediocre to "good".
Obviously you don't want a bad teacher… but neither do you want mediocre or merely "good".   Such teachers tend to all use the same methods and the same materials.  They have the same basic ideas about teaching English (or anything else).   With English, you find this everywhere:  teachers everywhere using the same textbook-based methods of teaching…  the same drill, exercise, memorize methods.
But it's not just English.  With music, I found the same thing.  Most guitar teachers, for example, use the same basic methods.   It took me one year to find a truly outstanding bass guitar teacher.  This is normal– it takes time to find an OUTSTANDING teacher,… you need to search patiently.
When you evaluate teachers, it's important to remember that Teaching is a separate skill from Performing.  In other words, just because someone is a native speaker and has a Phd. in English does NOT mean they are a good teacher.   I found this with guitar teachers–   there are a lot of great guitar players who are terrible guitar teachers.
Teaching is a distinct skill.  Look for a teacher that has their own powerful teaching system… not just a collection of textbooks.   Look for teachers who are very energetic- who make you feel excited about learning. Psychology is 80% of success, so you need a teacher who will inspire you and keep your motivation strong!
Once you have found your truly remarkable teacher, you should employ two different learning approaches.  One is called CANI (Constant And Never-ending Improvement).  This is the same as the Japanese idea of "kaizen"–   it means focusing on making very tiny improvements constantly– every day.   This is a very easy, gradual, and consistent approach to learning.  Basically, you practice/learn for an hour a day and each day you try to make at least a tiny improvement.
CANI/Kaizen is very powerful over time.  You start with a few tiny improvements, and keep improving a little bit each day… and suddenly you build momentum… and the improvements grow larger and faster.  Its a very powerful process.
However, slow & consistent improvement is not enough.  Occasionally we also need to learn very intensely.   For example,  every 3-5 months  do a 4 week super-intensive–  where you study/listen to English for 5 or more hours every single day.    The goal is to overwhelm your brain with English… but only for a short 4 week period.  After 4 weeks, you return to a more gradual "CANI" approach.
And that's all you need to do:   Find and Keep your OUTSTANDING teacher.   Then alternate between periods of steady and gradual study (CANI) and periods of very intense learning (Intensives).
Learn English using the Mastery Formula and you will learn much faster and will enjoy your learning more.
Click here to view more details
You may like also:
English listening Mp3 Download Lessons set. Free English listening lesson set comes from Effortless English 3. Level. Clik below download link and select "save as different" and download your free english listening mp3 lesson set in your computer. Yes, we said lesson set because, there is a pdf article, an audio lesson and an mp3 mini story lesson in the rar file. The lesson set's name: Validation.
It is useful to remember as usual. Mini story mp3 lesson is the most important part of the Effortless English. So, Listen all lessons in the same lesson set every day for one week or more. However, listen mini story mp3 lesson many times every day. And answer simple questions which A.J. Hoge asked out loud. If you can not answer at the first time, no problem. Be relax and listen again. After one week, you will internalize new vocabulary, you will improve your understanding and you will start to use them automatically.
Download Link: English Listening Mp3 Download
There is no password for the rar file. So, enjoy your english listening mp3 lesson set. Study other Effortless English mp3 lessonsas also, we mentioned above. If you study english according to Effortless English Rules, you will improve much more quickly. And get the full effortless english listening mp3 lesson set, listen them everyday. In 6-8 months, you will speak english.

Click here to visit Effortless English LLC
Click below article titles to learn more about Efforltess English and it's rules.