Learn Real English Conversations Speaking Course
|
There are many services that offer to teach non-native speakers how to speak English. The problem with many of them is that they don't focus on real English conversations. This can make the difficult task of learning to speak a new language even more frustrating.
Sometimes even if you're proficient in reading English you still may not be able to speak it very well. Also, textbook studies may not help you adequately learn real English as spoken in daily communication.
With Learn Real English course, you can quickly learn to speak conversational English for job interviews and to make friends internationally. You can start being able to understand English language movies, news, and television. Now, I want you to watch this short video below and find out why you must learn real English.
Learn Real English Conversations
Can you speak real English? Probably not. In school, you did not learn real English. you learned textbook English. For example, in school, you learned "hi how are you? I'm fine and you?" Well, real people almost never say that. We don't say that. Real people say that "hey what's up. What you've been doing? how you doing?" That is a real English greeting that we use every day.
You never learned that in school, you never learned that in a textbook. To understand real people, to speak to real people, to have real English conversations, you must learn the real English that we use every day. To learn real English, we always teach you real everyday English. Our lessons teach you the real English used by real people, not textbook English. Get our lessons today and start learning real English.
The success system with Learn Real English involves using recorded conversations. These are not boring textbook lessons that teach you from some actors quoting from books. That's not realistic since these are not the type of discussions people normally have in real life. The real way to learn is from listening to English speakers having a dialogue the way they typically would in the course of their day.
What's covered in the Learn Real English program:
Idioms or slang that is not covered in textbook lessons.
Learn how to express yourself like a native English speaker without worrying about translation.
How to utilize the Deep Learning Method that helps you to speak English naturally.
Find out how to understand real English conversations that people normally use every day.
Learn how to use vocabulary and grammar without memorization the way children do…naturally.
How to improve your listening comprehension which is one the most important skills to learn in the program.
Study like the best students by copying their habits so you can learn quickly.
How to start enjoying the process of

learning English

and have fun.
Find out how to meet others like you that are learning English so you can speak with them, which is a great
way for you to practice.

Learning grammar rules over and over in the traditional way causes you to speak slowly. That's because you become so focused on trying not to make a mistake you're not really getting a natural feel for the language. Also, the listen and repeat technique is also used frequently which only provides a way to learn how to repeat after your teacher, but you don't really learn how to think in English. Since you're only repeating words and phrases you are limited in what you can comprehend.
Learn English Through Stories
With the Learn Real English method you learn grammar more easily in the past tense than you answer the questions from different stories that you hear. They then tell you the same story in the present as well as future tense to show you the different ways that grammar is correctly used. Then you can start to not only understand but also feel the correct grammar you need to use within the conversation.
The Listen and Answer technique involves having you answer questions out loud in response to the stories you hear in conversational English. Since you're not translating you're able to answer much faster. With translation, you have to go back and forth between languages which is not the way a normal discussion works. A discussion is when a person asks a question or makes a statement and you answer in return. This technique is what makes this program effective.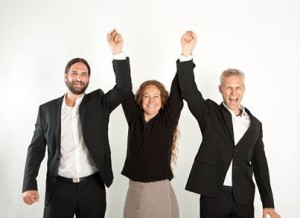 The Learn Real English program is run by three English teachers, A.J. Hoge, Kristin Dodds, and Joe Weiss, who have 25 years of combined experience in teaching. They are English professionals who are all highly trained and have obtained Master's degrees.
All of the lessons are downloaded on MP3 files so you can carry them with you wherever you go or listen to them on your computer. Everything you need to learn is on the MP3 files so you can start learning English immediately.
You can start learning how to speak English today and be proficient within 6 months. The company will even refund your money if you do not improve your ability to speak conversational English within that time frame. Click below the buy lessons now button to get your lessons with a money-back guaranty.
This is a great opportunity for anyone who wants an easy and effective way to learn to speak English right away. You'll receive the Audio Vocabulary Lessons, Listen and Answer Mini-Stories, and Real English Conversations as soon as you order the program. If you are interested in learning English by listening to easy stories, you should check this out: English Easy Practice Course.