Power English Lesson Set
|
Hello dear friends. I have great news for you. May be some of you know that after Original Effortless English lessons,  AJ Hoge created Power English lesson set and sold them for only one special day almost two years ago. He stopped to sell Power english until nowadays. And now Power English lesson are available to buy.  You can click here to check it yourself.
I can say that Power English lesson set the best lesson set which AJ Hoge created until now. If your level intermediate to advanced, I highly recommend Power English lessons for you. It is not enough to say these are only English lessons. When you listen to Power English lessons you will learn English and many other interesting informations at the same time.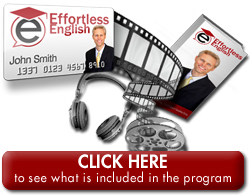 In Power English you will especially find subjects of motivation, leadership and self improvement. AJ Hoge share with us his experiences of seminars he participated and books he red with his useful commentaries. So you will learn to learning fast and improve your English and learn to look your life with a quality perspective.
If your English level is lower than advanced (intermediate and pre-intermediate), I highly recommend OriginalEffortless English lessons for you. Original Effortless English Set includes lessons on different levels, from Pre-Intermediate to advanced. Click here to view more details about Original Effortless English lessons.
Content Of Power English
Power English contains 30 lesson set. In each set, there is a main article lesson, a mini-story lesson, a pointof view lesson. Also there are 6 commentary mp3 lessons as bonus. As I said before,from the main article you will learn many interesting things, for example, how to be confident, strongand never give up achieving your goals. The mini-story and point of view lessons will teach you English grammar in the effortless way.
As a result, I believe Power English lessons are the best, the most powerful English lessons you can find. I highly recommend AJ Hoge Power English lessons. I think these lessons can help any or you who wants to improve their English skills for speaking excellent English. The price of Power English is the same of Original English Lesson Set and it is 97 usd. Also AJ Hoge is sure to you will speak English better  with his lessons and he gives Money back guarantee.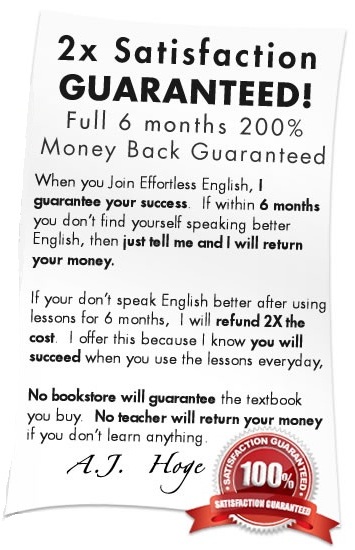 After using Effortless English or Power English lessons during 6 months, if you don't find yourself speaking better English, then just tell AJ Hoge and he will return your Money. But I don't think it is possible to not improve your speaking after listening these lessons in 6 months. Click here to go to Effortless English Club and get Power English lessons. Your English and your life will become better.
What Is The Price of the Power English Course?
This great course used to be sold whith $97 for a long time. It contains 32 lessons set which takes 6 months and improve your speaking skills very fast. But A.J. Hoge the director of Effortless English program, decided to increase the price. Now, if you click this link: Effortless English Club you can see the price of Power English course is 197 usd currently.
But, there is a final chance to get this useful course whith the old price now. If you click below link, you can see the old price ($97) and buy Power English lessons %52 off. However, you should hurry up! Because this is limited time offer.
$197 Limitid time offer: $97
Click here to buy Power English Course with 97 usd now!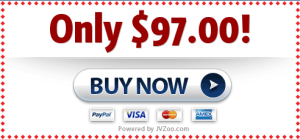 Learn Real English
Another course for you to improve English listening and speaking skills is the Learn Real English conversation course. By using this course, you can quickly learn to speak conversational English for job interviews and to make friends internationally. You can start being to able to understand English language movies, news and television. You can not speak English fluently by reading boring textbooks. But you should listen real English conversations repeatedly. And you can practice with listen & answer mini stories.
Click here to download LRE course now!