A Dynamic Learning Tool For Mastering English – Italki
|
An Introduction to Online English Teaching Italki. No matter where in the world you might be, learning to speak English is best achieved through a one-to-one internet platform. Unlike a classroom, an exercise book, or an online app, hiring a tutor is highly convenient. You can ask questions directly to your tutor, who in turn will focus on your own language learning issues.
The Advantages of Hiring an Online English Tutor
The convenience factor has to be one of the greatest advantages of using an online tutor. The English language student will receive special attention and all aspects of the lesson will point focus on the individual.
The challenges of the English language are all too well known. It is difficult for students to pronounce certain words and phonetics. The aspects of the language can only be tackled by immersion.
Online tutoring is a classic example of immersion. Students are encouraged to talk to the tutor face-to-face and hear how the English language actually sounds. Millions of students are learning the English language right now. More than half of those are based in countries where English is not the primary spoken tongue.
The distinct advantage of immersion in the modern age of advancing technology is that one need not travel to an English-speaking country for practice.
An Introduction to italki
The online platform italki is very straightforward and easy to use. A quick browse through the list of teachers willing to provide lessons in English and you will find a wealth of information available.
Every teacher on italki will express their experience, qualifications, teaching style, and materials used. This information is accessible through the teacher's introduction tab. Most bios have an accompanying video where potential students can see the teacher and hear their voice via a minute-long introduction.
This is important for students to find the right voice when studying a new language with a dialect they can easily understand. As well as a bio and video, every teacher has a calendar showing which slots are available in the coming days.
Ideally, one should look for a tutor who speaks a native language as well as English. On the very first page, it was possible to discover an English instructor who also speaks Spanish and another entry from a Hindi speaker willing to provide English lessons.
Click here to find your English tutor now!
The Experience of Tutors
During the browse through the listings of English tutors online at italki, it became clear how easy it was to see the level of experience each has. Beneath the individual profile picture is the star rating (five stars is the highest mark given) and how many lessons given to date.
There are several multi-lingual people on the database.  Some of the tutors could converse in six or more languages and had well over 5,000 lessons already offered.
Business English
Living and working in countries like the United States, United Kingdom, Australia or New Zealand has long been the dream for many. The requirements will often demand a very good command of the English language if you are to succeed in forging a career in these nations.
On the platform italki, there are a number of tutors available to teach the basic principles of business language. So, if you are preparing for a job interview, holding a presentation, or attending a meeting of international business delegates – even a video conference call – it would pay to start looking through the listings on italki.
Trial Lessons
When browsing through the listings of English tutors on italki you will notice varying rates. Some teachers are vastly more experienced than others and some have qualifications of very impressive standards.
Tutors offer a 30-minute lesson at a reduced rate (often less than half the price of a full-hour-long lesson) so students can see if a particular teacher is the right fit.
Why Practice Makes English Perfect
If you wish to converse with shopkeepers, officials, new friends, or work colleagues in English, it must be achieved through speaking practice. The more you talk, the better you will become as a communicator.
At italki, there are plenty of tutors to help you practice. Many will give you practice sheets – usually in the form of a PDF, Word document, or video – for you to continue practicing long after the lesson is over. When you attend the next lesson your tutor will hear the progress you will have made.
When language students try to learn a language through an app, they are encouraged to speak out loud their answers. However, not that many actually do so. Some of the exercises on the apps ask you to speak a sentence in English. But speaking exercises tend to make up fewer than five percent of the curriculum.
When you consider that speaking face-to-face with an English speaker is the best way to master the language, it is baffling that speaking exercises make up such a small part of the learning tools within the app.
At italki, the focus on speaking is paramount to the lesson. Talking to another person is the very best way to familiarise your skills.
What about Nervous or Shy Students?
There are still thousands of people out there who struggle to get to grips with online video calls. Particularly as many older students have grown up never using this new technology. The teachers on italki are all very friendly and will exercise patience when you make a mistake.
Mistakes are part and parcel of language learning. We learn a language from correcting our mistakes. The teachers on italki will expect you to make several errors each and every time you book a lesson. Moreover, the platform allows you to view a pre-recorded video that introduces the teachers and their individual styles.
The Process of Learning English
It is a long and winding road to learning English. The fact that it is an international language helps immensely. There are certain terms and phrases in English used in other languages such as Danish, French, and even some Hindi.
About a third of the English Language is made up by using words and phrases from Latin and French. Swedish, Dutch, and German are known as Germanic languages. The so-called Romance languages comprise French, Italian, and Spanish. English is believed by linguist experts as a sort of Romance-Germanic hybrid.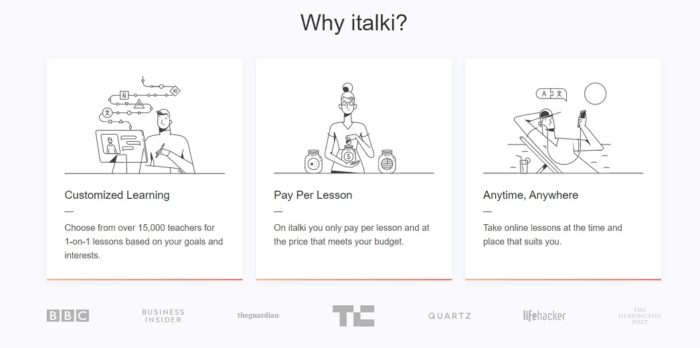 What this means is: if your native language is one of the Romance or Germanic tongues, then learning English is going to be a lot easier than someone from say Russia, the Far East, or the Oriental language regions.
Correct spelling, punctuation, and applying the rules of grammar are just part of the journey to learning any new language. Interaction with a tutor is the fastest way to learn a new language. When you speak in English you do not need to know how the word is spelled, any punctuation marks, or grammar contexts – just get the word order right and the pronunciation as best you can – and it will work.
English Speakers Do Understand Your Accent
Another good thing about English is that you can speak the language with a French, Italian, or German accent and it will most likely be understood. The same principle could not be said about a native English speaker trying to learn French.
Many French words and phrases have to be pronounced using a French accent. It is also important to remember if a letter is accented it should be pronounced the only way it will be understood. The English-speaking countries tend to have wide and varying dialects; so the native speakers are well used to hearing and understanding regional accents.
Why Video Tutoring is So Dynamic
The foreign language instructors at italki are professionally certified, and experienced and will help you pronounce words in the right way. It is a good idea to get to know a tutor and stick with that one for any ongoing lessons.
That instructor can then start to measure your progress by keeping a record of the grammar level and oral practice achieved.
Can I Sign Up for italki?
You most certainly can and it's free. (Click here to sign up for your free account now) The only time you will expect to pay is if you buy a 30-minute trial lesson (strongly recommended) and any further lessons beyond that. There are two types of tutors on italki. Professional teachers are usually those with qualifications and certificates and fluency in at least two languages.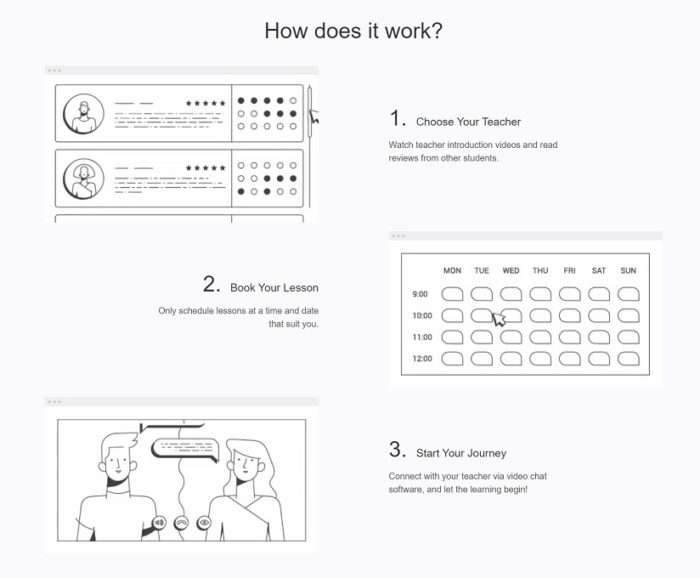 Community Tutors are native speakers who will enjoy helping a language learner converse about fun topics in a friendly but informative way.  If you decide to start learning English as a beginner it is best to start out with the Community tuition instructors.
They are less expensive than professional teachers and many of them will still teach a fair amount of English in a valuable and enjoyable manner.
What is the italki Community Feature?
When you sign up and register an account (which is free) you can read through a number of articles in your target language and even keep a notebook. The notebook is a fun way to write down comments, notes, and phrases and have tutors comment on your work once you have published it.
Where Does One Start?
The first thing is to head to the site and set up your personal profile. It is a simple and easy thing to do and you will be guided by instructions every step of the way. Click here to start now!
The information you need to provide is a name, bio, gender, basic information, and which country you reside in. It will ask you which languages you know and at what level you are proficient. Once you have set up your profile you can start to browse through the tutors. Have a look at their video and read the "about me" page.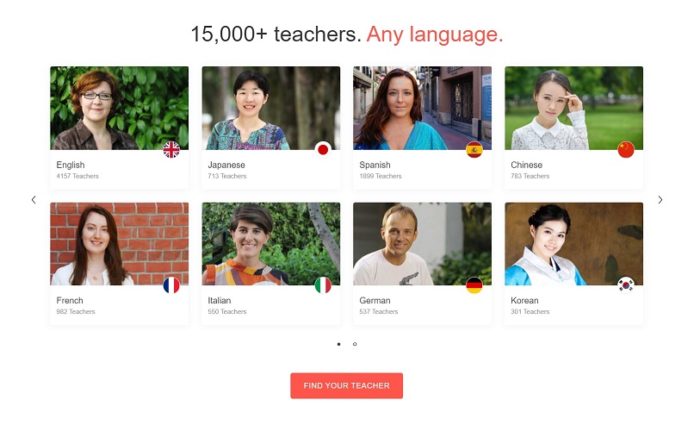 Use italki to find your tutor
It is possible to narrow down your search to a region. This is especially helpful if you are planning to learn English in a certain dialect. So, you can search for tutors in Scotland, the Republic of Ireland, or New York.
It is also possible to find a tutor who speaks your native language as well as the target language you wish to learn. The price range you are willing to pay can also be narrowed down. The lowest fee is $4 per hour and the highest is $80.
If you are only available to learn on certain days of the week, you can filter the results to see which tutors have spare slots for lessons on any given day. If you are only searching for a Community Tutor, you can filter out the tab marked Professional Tutor, or vice-versa.
Are There Different Learning Categories on italki?
Yes. Business, Exam Preparation, General Conversation and Children learning styles are all available on the platform. Once you know the style you wish to learn, you can get ready for your first lesson.
italki Video Platforms
You can use the italki Classroom by logging into the website and then selecting the "Enter Classroom" radar button. But you can also use popular existing platforms like Skype, FaceTime, WeChat, or WhatsApp if you so wish.
Your tutor will tell you which platforms they normally use and when the lesson is over you will be asked to leave a review. The tutor will also leave a review for you too.
You are also asked to confirm that the lesson was completed successfully. This allows for the tutor to receive payment. If you do not confirm this after a certain amount of time, italki will confirm it for you automatically.
Learning at a Low Price
Many of the Spanish-speaking nations across South and Central America can teach you Spanish at a low rate. A cost of just $4 will get you an hour-long lesson from several tutors. You can find these by filtering the price range you wish to pay.
You need not worry about quality either as all tutors are vetted by the site administrators. The platform also allows you to learn at your own pace too. Many tutors will offer 90-minute lessons or 45-minute slots should you prefer a different duration from the hourly lessons.
Power English lessons by AJ Hoge from Effortless English