Success With Stories For Speaking English Fluently
|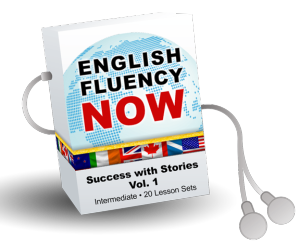 Success with Stories is a great way to learn English through listening, repetition and practice. By hearing the actual English words spoken and repeating them to yourself you can begin to speak English fluently through a better understanding of the language. You can practice speaking English while listening to the simple, yet enjoyable stories, reviews and vocabulary. This English lesson package is perfect for those who are able to understand some English, and speak it but who need a little help to become fluent in the language.
By listening for just 1 hour each day, 5 days a week, the English learner can build up his or her mastery of the language and quickly become an expert. This course of study is not for native speakers, as it could be too boring for them as the lessons are delivered quite slowly. But slow and deliberate reading is perfect for people who are trying to become accustomed to reading and speaking English. Even advanced learners will likely find these lessons helpful by establishing their English skills and making their English sound more natural than ever before.
Success with Stories involves listening to stories that are read aloud. These stories are then followed by a vocabulary lesson taken directly from the short story that was previously read. After that, there is an interactive question and answer session where the student can answer aloud and receive correct answers from the lesson. From there, the student is read the same story from a different point of view to give him or her a better grasp of different perspectives.
The cost for these lessons is $89.00 for over 18 hours of audio lessons. Some people may consider that somewhat expensive but it is worth the cost due to its high success rate. Each lesson is backed up with bonus lessons including full written transcripts of the stories so the student can read along while listening to each story. Each lesson also includes special sessions on training the speaker to use an American English accent if that is what the student desires. Not only that but Success with Stories provides a private Facebook page for questions and answers, that is a helpful community for the student learner.
This unique program enables the listener to learn English, and hear it spoken by a native speaker, which enables the listener to practice English speaking while listening to what a native English accent sounds like. The slow pronunciation of the words and phrases in each lesson helps the listener to pick out the subtle nuances of the language, which helps the listener to get to know what English sounds like in the real world rather than a guidebook version.
The audio files in this program are all mp3 files that are downloadable to a computer. Once there, they can be loaded into a mobile device such as a tablet or smart phone, to take with you wherever you go for a quick lesson. Any text files are written in PDF format and are easy to print whenever desired. You can download a free sample lesson below.
Free Download And Listen Now
[sociallocker id="2369″] Click below link to download!
Download a sample lesson for Success With Stories Course
[/sociallocker]
The methods used in this training package have been used successfully world wide by language teachers to help their students master a second language quickly and easily. This teaching method uses words and phrases that are commonly used in English, enabling the student to conquer the task of learning to be comfortable holding a conversation in a foreign language.
It can be difficult sometimes to get past the translating habit when dealing with a second language. The student runs words and phrases through his or her head, and tries to translate them into correct English. This training course will help the student eliminate the need for that step and allow him or her to simply and easily know the words and the correct order they should be used and speak English like a native.
This program is not for beginning English speakers but is actually for those who have been studying for a while and have already picked up some skills in the language. Anyone who is in an intermediate to advanced level of learning English will easily excel in this English language program. The goal here is not to achieve high level difficulty in words but to achieve English fluency in what the student already knows as well as accumulating more knowledge to top it all off.
All in all, this listening English course sounds as though it would genuinely work to help people gain a better grasp of the English language in their own time and at their own pace and seems to be well worth the price. Watch this short video below to learn more about Success With Stories Course.
Click here to Download Success With Stories
Click here to view more details!
If you want to improve your listening and speaking skills easily, you can use Success with stories fluency course. The best way to learn English speaking is to practice listening with easy and interesting lessons. Especially TPRS method will help you to achive that with listen and answer mini stories.
Get Success With Stories Course Now!