Success With Stories For Speaking English Fluently
|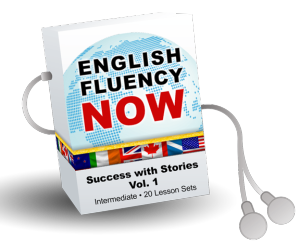 Success with Stories is a great way to learn English through listening, repetition and practice. By hearing the actual English words spoken and repeating them to yourself you can begin to speak English fluently through a better understanding of the language.
You can practice speaking English while listening to simple, yet enjoyable stories, reviews, and vocabulary. This English lesson package is perfect for those who are able to understand some English and speak it but who need a little help to become fluent in the language.
By listening for just 1 hour each day, 5 days a week, the English learner can build up his or her mastery of the language and quickly become an expert. This course of study is not for native speakers, as it could be too boring for them as the lessons are delivered quite slowly.
But slow and deliberate reading is perfect for people who are trying to become accustomed to reading and speaking English. Even advanced learners will likely find these lessons helpful by establishing their English skills and making their English sound more natural than ever before.
Success With Stories For English Fluency
Success with Stories involves listening to stories that are read aloud. These stories are then followed by a vocabulary lesson taken directly from the short story that was previously read. After that, there is an interactive question and answer session where the student can answer aloud and receive correct answers from the lesson. From there, the student is read the same story from a different point of view to give him or her a better grasp of different perspectives.
The cost for these lessons is $49.00 for over 18 hours of audio lessons. Some people may consider that somewhat expensive but it is worth the cost due to its high success rate. Each lesson is backed up with bonus lessons including full written transcripts of the stories so the student can read along while listening to each story.
Each lesson also includes special sessions on training the speaker to use an American English accent if that is what the student desires. Not only that but Success with Stories provides a private Facebook page for questions and answers, that is a helpful community for the student learner.
Click here to view more details!
Speak English Fluently
If you can read this, then you can become an excellent English speaker. But you need to do the right things, the things that really work! Stop wasting your time doing the things that don't work…like studying grammar rules and reading textbooks…
Use a program that works! After going through the first lesson in the Success with Stories program, you are going to start making amazing progress towards English fluency. You will do exactly what you need to do to reach fluency. By using my methods, you will understand native speakers and be able to speak with confidence and ease. (You will be so proud of yourself!)
This unique program enables the listener to learn English, and hear it spoken by a native speaker, which enables the listener to practice English speaking while listening to what a native English accent sounds like. The slow pronunciation of the words and phrases in each lesson helps the listener to pick out the subtle nuances of the language, which helps the listener to get to know what English sounds like in the real world rather than a guidebook version.
The audio files in this program are all mp3 files that are downloadable to a computer. Once there, they can be loaded into a mobile device such as a tablet or smartphone, which you can take with you wherever you go for a quick lesson. Any text files are written in PDF format and are easy to print whenever desired. You can download a free sample lesson below.
Free Download And Listen Now

Download a sample lesson for Success With Stories Course
The methods used in this training package have been used successfully worldwide by language teachers to help their students master a second language quickly and easily. This teaching method uses words and phrases that are commonly used in English, enabling the student to conquer the task of learning to be comfortable holding a conversation in a foreign language.
It can be difficult sometimes to get past the translating habit when dealing with a second language. The student runs words and phrases through his or her head and tries to translate them into correct English. This training course will help the student eliminate the need for that step and allow him or her to simply and easily know the words and the correct order they should be used and speak English like a native.
This program is not for beginning English speakers but is actually for those who have been studying for a while and have already picked up some skills in the language. Anyone who is in an intermediate to advanced level of learning English will easily excel in this English language program. The goal here is not to achieve high-level difficulty in words but to achieve English fluency in what the student already knows as well as accumulate more knowledge to top it all off.
All in all, this listening English course sounds as though it would genuinely work to help people gain a better grasp of the English language in their own time and at their own pace and seems to be well worth the price. Watch this short video below to learn more about Success With Stories Course.
Click here to Download Success With Stories
Buy & Download the full course!
One payment of $69 $49

What's The Content Of The Course?
20 Lesson Sets (The Story, Vocabulary Lesson, Q&A Lesson, POV Story)
18+ hours of Audio Lessons (mp3) with Transcripts (400 PDF pages)
Special Bonus Lesson on Pronunciation, Intonation, and Accent to help you master the American English accent
A speaking English evaluation (I give you feedback on your speaking)
Membership in a private Facebook group
Bonus video tutorials via the Facebook group
Lifetime access to all 20 Lesson Set files
30-day money-back guarantee
Support from me, an experienced English teacher with 20+ years of experience
If you want to improve your listening and speaking skills easily, you can use the Success with stories fluency course. The best way to learn English speaking is to practice listening with easy and interesting lessons. Especially TPRS method will help you to achieve that with listen-and-answer mini-stories.
Click here to view more details!
About Lisa Your Instructor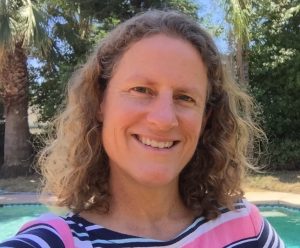 Lisa has been a teacher since 1998. She has worked with students of all ages from around the world. She currently works with English learners in Fresno, California, the 4th largest school district in California.
For five years she helped English learners from around the world achieve high levels of English and become confident speakers via one-on-one Skype sessions. She has helped students pass the TOEFL speaking exam with a high score and the IELTS, tests that are necessary for those immigrating to English-speaking countries who want to work professionally, such as doctors, physical therapists, dentists, and pharmacists.
She is a polyglot who enjoys learning languages. She speaks Spanish, Portuguese, French, German (with varying degrees of fluency) and she is currently learning Italian. Her greatest joy is to help eager, self-directed learners achieve their English fluency goals.
What You Will Do In This Program
listen to real, authentic American English
easily acquire a LARGE amount of relevant, high-frequency vocabulary words, including common idiomatic expressions, phrasal verbs, collocations, and colloquialisms
acquire accurate grammatical structures easily
learn to speak with speed, accuracy, and ease
learn to speak powerfully and confidently
learn about the culture of the U.S.
Get Started Speaking English Today! (INSTANT DOWNLOAD)
1. Click the BUY NOW button.
2. Pay with your credit/debit card or PayPal account. (No Western Union)
3. Receive an email with several links to IMMEDIATELY download all audio files and PDFs. (Total files size is 1.3 GB.) Please download to a computer first and then transfer files to your tablet or mobile device.
4. Receive an email invite to join the Facebook group.
KEEP FOREVER!  Listen to the lessons at your own pace.
One payment of $69 $49

Frequently Asked Questions about the course
Question: Is this program right for me?
Answer: Yes! If you…
Are serious about becoming fluent in English.
Are self-directed learners who will follow the program.
Want to speak English with confidence and ease to communicate with others at work or while traveling.
Want to get a 26 or higher on the TOEFL speaking exam.
Question: Does it really work?
Answer: Yes! TPRS (Teaching Proficiency through Reading and Storytelling) works! It is a proven method that has been successfully used by foreign language teachers throughout the world to help second-language learners become fluent in their target language. It is based on comprehensible input.
People who have purchased Success with Stories have reported becoming addicted to the stories because they are funny and interesting. Every time they listen to the story, they understand something new. They see big improvements quickly!
Question: Why is it better than other methods?
Answer: Because it works! It is FUN, ENGAGING, and INTERACTIVE! There are both passive and active components of the program. It is the most effective program for training you to become a fluent English speaker.
Question: Will it work for me?
Answer: Yes! If you finish all the Lessons, taking your time to master each Lesson Set, it will definitely work for you. You must be willing to do your part. This program is for serious learners!
Question: Will it take a lot of time?
Answer: I recommend that you spend at least 45 minutes to 1 hour per day (5 days per week) with a Lesson Set. You can repeat the lessons as necessary. How long it takes you to finish the program will depend on how many hours per day you spend using it. It is a self-paced program. You will begin to see results after the first few lessons.
Question: Is it too easy for me?
Answer: Probably not. The program is for low-intermediate to advanced-level English learners. Even though many students have advanced reading skills, their listening comprehension and speaking skills are often weak.
Question: Will it help me get a high score on the TOEFL or IELTS exam?
Answer: YES! Advanced-level English learners benefit from this program because it ensures that you speak correctly and automatically. You will also learn a ton of new vocabulary that will help you prepare for the TOEFL and IELTS exams. If you need to get a 26 or higher on the TOEFL speaking section, get this program today! Stop failing to get the score you need!
Question: Is this program too hard for me?
Answer: Maybe. This program is NOT for beginners. If you can read and understand this page, you should be fine.
Question: Why should I pay to learn English when I can learn for free?
Answer: You can't find this type of step-by-step course anywhere online for free. Paying for a structured, professional program is an investment that will save you time and money. It will potentially earn you more money in the future as well. English is important, which makes becoming an excellent English speaker one of the smartest investments you can make. This program is a bargain for what you are going to get.
Buy & Download the full course!
One payment of $69 $49