Many people who are trying to learn English want to improve their speaking skills. Because, in school, they learn grammar rules, a lot of vocabulary and reading textbooks. But even if they understand what they read and listen, they don't speak English fluently.
Power English course is the best program to improve English speaking. There are main audio lessons which are great to improve English listening skills. Vocabulary lessons help you learn new English words easily. Mini story lessons will boost yoor speaking level in a short time. POV (Point of view) lessons help you to use grammar correctly and automatically.
Why you should use Power English Lessons
Imagine the best new ideas and research from experts all over the world used in a totally new kind of English lesson. Wouldn't that be exciting? Well, that is exactly what we did. Our lessons use methods that are research-based! Learn English Speaking using ideas from top English learning experts from all over the world.
The System is totally different. The old study methods you used in the past are boring compared to this program.You have never used English lessons like these!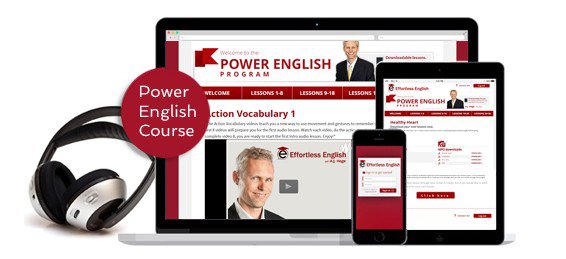 What You Learn When You Download the Program Today:
The incredible way you Learn Grammar Without "Rules": Use English grammar correctly by learning grammar in a natural way.

The Deep Learning method that helps you use English faster. Remember English words and grammar– and use them in real conversations. Feel strong about your speaking ability.

The way you learn English in a relaxing way by listening to real English articles about interesting topics. Imagine thinking, smiling, and laughing while learning.

The way you avoid stress and slow speech. The fun and crazy mini-stories train you to speak and respond faster.

How the best English speakers learn, how they study,– and how you can use the methods they use. To be successful, copy the most successful people.

Lessons that help you learn English without boredom- no more textbooks, no more tests, no more "exercises".

How you meet other English speakers and talk with them. Meet other friendly Power English members just like you.
Now, don't wait anymore to speak English fluently. Buy Power English course and you will immediately download all of your lessons into your computer and start listening them rihgt now.