Ultimate Vocabulary Interview By Power English
|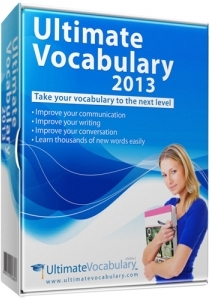 As you remember, I mentioned Ultimate Vocabulary builder before. And I think it is the most powerful software which helps you to improve your vocabulary. Today, I wanted to inform you about the Ultimate Vocabulary interview was published as Power-English.net on the official blog of Ultimate Vocabulary.
You can read my interview below and learn more about Ultimate Vocabulary Builder software. They offer new and very useful bonuses recently. So if you are looking for an enhancer of your thesaurus and vocabulary, you should hurry to buy Ultimate Vocabulary with great bonuses.
Ultimate Vocabulary Interview
UV: You've collected a lot of good resources for learning English on your website. What made you decide to create this website and help people with their English skills?
Power English: Well, in fact, I am not a native speaker and I have been trying to improve my English for years. You know schools and even special English courses are not enough to speak excellent English. Because, especially in my own country, they are using classical methods and boring textbooks to teach English. So, I tried and tried lots of different ways to improve my English speaking. And finally, I decided to build a website to help people with my experience. I wanted people to use the best methods to learn English.
UV: Learning English vocabulary is important, but it's also important to learn grammar so that you know how the words all fit together correctly. Do you recommend that people start by focusing on grammar, or on vocabulary?
Power English: When I was searching for the best methods for learning English, I read an article called "Children's Secret" by Dr. J. Marvin Brown. I learned that children learn to speak their language without studying grammar rules. So English learners must focus on vocabulary and listening a lot, not focusing on grammar rules. When I was a student in a high school, my grammar was fine and my exam results were okay. But I wasn't able to speak English fluently. It is very essential to learn vocabulary and phrases plus a lot of listening to speak English fluently.
UV: Many people learn basic English in school, but find they really need good English skills when they have the opportunity to get a new job overseas or with an international company. Where should these people go to get help with the language?
Power English: After people learned basic English skills, especially speaking, they need to improve their vocabulary in their specific area. In other words, people need to build their own business English vocabulary. To do that, they can use Ultimate Vocabulary builder software. This is a very useful and handy feature that builds people their own word list. Ultimate Vocabulary can help people get promoted, earn more money, and enjoy a successful life.
UV: Slang and idioms are often very hard for people to learn, because these phrases involve words that are generally not used in the normal way, with the standard definitions. For example, "hair of the dog" doesn't have anything to do with hair, or a dog – it refers to a "morning after" drink to help get rid of a hangover. How can people learn, and practice using, expressions like this?
Power English: Well, one of the most difficult parts of learning English is slang and idioms. It is even difficult to find out their meaning in the general dictionaries. However, slang and idioms are very common in daily real English. You might speak English fluently and you don't have to use lots of slang and idioms. But in order to understand native speakers correctly, you have to know their meaning.
This is where Ultimate Vocabulary comes in. This is the most powerful vocabulary builder which I used. It is easy and fast to learn lots of new slang and idioms that are difficult to learn from textbooks. I highly recommend Ultimate Vocabulary for English learners.
UV: You offer several English lessons as free MP3 downloads so that people can learn English anywhere. Are you planning on adding more material to this section soon?
Power English: Yes, I think mp3 audio lessons are very useful to improve English listening and also speaking. You can put them into your phones and mp3 players and listen to them everywhere and every time again and again. So I search for these kinds of materials on the internet and use them for myself. Because they are free I want to share them with people. I will add more listening materials to our free download page soon.