English Movies – The Homework You Will Love
|
Who likes homework? No one? Well, there's no wonder. Ever since we were kids, we disliked the idea of spending an hour or two daily doing some tiresome and boring exercises instead of playing football or watching our favorite English movies on TV.
Even when we grew older and more mature and actually realized that, terrible as it is, homework is a key to success in learning pretty much anything, we still are not ecstatic when it comes to forcing ourselves to sit down and study. The reason is simple – we are not entertained.
Of course, when we grow up, we need to study less; therefore there is less need in external motivation. But when it comes to learning foreign languages, we need a way to overcome our repulsion at the idea of homework. The solution is very simple – you should learn English through movies.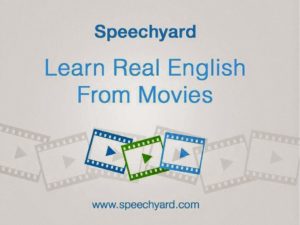 Are you surprised with this idea? Well, don't be – actually, many things that you do every day can bring additional value to your language studies. You can learn new words by switching your favorite video game to English or by checking out closed captioning to the TV channels you watch.
The same applies to English films. Apart from the obvious entertainment purpose, English films with English subtitles can help you remember the words you studied in class, find some new word combinations and the idioms with the words you already know and see how the "living" English sounds. The latter might turn out handy if you study English on your own – in this case English movies are also a great guide to pronunciation.
Watch English Movies With English Subtitles
Of course, just randomly picking one of many English films won't do. You need a video, preferably not too long, where the people speak one of the widely used versions of English. You can use YouTube, but, unfortunately, captioning of the videos there isn't always accurate. So, not to fall a victim of falsely understood words and expressions, you need a resource that has a selection of categorized English movies with English subtitles.
You can find all that and more at Speechyard – a learning platform, where you, along with thousands of other users around the world, watch English films online, check the translation of unknown words with just one click and in this way, improve your listening and reading skills. Such exercises help you fight the fear of boring homework, enhance your active vocabulary and make you more confident to use phrases you learn in real life. Speechyard community helps you practice English with learners who are just like you. You might even find some new friends who like the same English movies you do!
Join Speechyard today to say "no" to boring homework. Watch hundreds of English movies with subtitles and perfect your English!
Learn English With Subtitled Movies
Well you can see there is another way to learn English by enjoying movies. Don't miss this opportunity with Speechyard. Just click belowlink to start your free account, pick a movie and start learning today.