Don't Compare Your English Level While Learning English
|
The world is turning into a global village where different people of multiple languages live and interact. Among different languages, English is an official language and learning and speaking English is thus a really big advantage.
If you are not an English speaker and learning this language, the first thing you should do is, 'Stop comparing yourself to others'.
You should abstain from comparing yourself to other English learners because:
It is a fact that your fellow language learners won't be at the same level as you as everyone learns at different paces and that's absolutely fine for you. Be proud on yourself and keep going. Now watch below video of A.J. Hoge of Power English course director.
Reason why you shouldn't compare yourself to other while learning English
Click here to view more details!
It Damages Your Self Confidence
According to Mark Twain, "Comparison is the death of joy". Comparing enhances your feeling low-self-confidence and depression. If you compare yourself to others while learning English, it means you have entered a dangerous territory and now you will see other speakers better than yourself.
Comparison Leads to Negative Self-Talk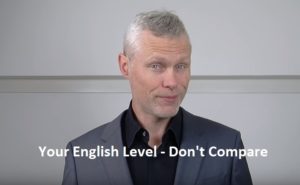 Comparisons during learning process lead you to negative self-talk and then you start saying these negative things to yourself:
Why do I always make mistakes while speaking? I am so stupid.
I always get it wrong and others are better than me, I will never get better in life.
It's so hard for me to speak in English.
You should need to change these negative thoughts into positive one. Positivity helps you to learn more quickly.
Comparison Makes You Feel Nervous
If you want to speak in English, just put yourself out there and speak without comparison. Comparison makes you feel nervous and then you don't want to step out from your comfort zone. The more you learn English without comparing yourself to others, the more you will begin to feel relaxed and less nervous.
Comparison Leads You Towards 'Giving Up'
When you start learning anything for the first time, it always seems hard. The learning period becomes more difficult if you start comparing yourself to others. It's a fact that comparison leads you towards negative thoughts and you start giving up. If you want to get better, you have to keep practicing without comparison. Comparison while learning English won't improve your skills.
Comparison Inhibits Your Potential
Just because of comparison, you can start telling yourself that you are not a good English speaker and you are useless. At times, you start avoiding people and communication as your English fluency suffers you. So, don't evoke a wrong emotion in your mind and inhibit your potential of learning English. Just improve your knowledge to improve your English learning without caring for other best learners.
Conclusion
It's true that learning a new language is difficult for you but you can make it easier for you if you simply stop comparing yourself to others during learning period. Comparison will definitely hinder your progress. Learn from your seniors and improve your English.
We highly recommend you to use Effortless English system to improve your listening and speaking skills with ease.
Click here to view more details!
—
References: