English Grammar Video 29-2 Tag Questions
|
This is part 2 of Tag Questions English grammar video lesson by Jennifer. In part 1 video, we have already looked at the two common uses of tag questions: to comment and to confirm. And I hope you will recall from other lessons that there is other structure that allows us to do the same thing. Do you remember negative questions?
Negative questions are also used to comment and confirm. So for example when we say "Teaching is rewarding, isn't it?"  We could also say "Isn't teaching rewarding? " And when we say "You are a teacher, arn't you?" an alternative structure is "Arn't you a teacher?" So negative questions and tag questions share some uses. However there are other uses of tag questions. And that's what I'd like to look at now.
What Is Tag Questions Other Uses?
Watch above English grammar video to learn more about tag questions. In this video, Jennifer is teaching tag questions structures and giving example sentences. Also you will find a lot of exercises wich you can practice what you learned.
Confident Grammar Lessons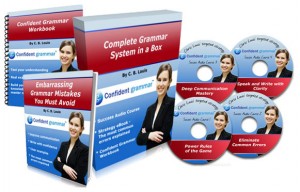 If you are interested in learning English grammar, you may find Confident grammar lessons are useful for you. You can have almost perfect English grammar quickly and easily by learning some basic rules and learning how to avoid a smattering of common mistakes!