Learn English Vocabulary Problems and Defects
|
This is free and very useful English learning video series from Espresso English Course. In this lesson you can learn English vocabulary with pictures about the topic of Problems and Defects. By watching above video, you will see the pictures about the words you want to learn. And you will listen the explanations the words and also you will hear the pronunciation of the words. So this is very powerful methot to learn English vocabulary with an easy and quic way.
In this lesson, we will learn vocabulary below:
scratched
cracked
smashed
torn / ripped
crumpled
stained
chipped
dented
bent
burnt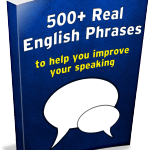 Espress English has a variety of courses which are very useful and easy to learn English. So if you are interested in learning English and improve your English skills just like vocabulary, idioms, speaking and listening, business English, grammer and much more topics. On the other hand, we will share more free video lessons in our www.power-english.net website. So stay with us and enjoy your learning English.