Learn English Words With Ultimate Vocabulary
|
Learning English words can be quite a daunting task, but don't be intimidated! There are many resources available to help you learn English words. Here are a few tips to help you get started:
1. Use flashcards to help you learn English words.
2. Use online dictionaries to look up English words.
3. Practice saying the English words aloud.
4. Take a language learning course to help you learn more English words.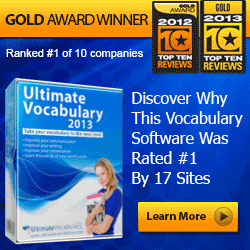 Ultimate Vocabulary is a quality resource for those who want to learn English. The software provides a number of learning tactics that individuals can use to learn English words and phrases and retain the information, and is designed to help learners learn the words that are specific to their needs.
Ultimate Vocabulary promises that individuals who use the program only have to spend 10 minutes a day learning English for 30 days in order to build up a substantial vocabulary and feel much more comfortable speaking English. If the customer is not completely satisfied with this English vocabulary builder, the program can be returned for a full refund.
The language learning program has received high marks from PC World and Top Ten Reviews for its effectiveness and ease of use. Those who want to learn English vocabulary can download the Ultimate Vocabulary program onto their computers easily, as the software is compatible with both Mac and Windows systems.
Learn English Words Fast
Ultimate Vocabulary also provides a blog on the software website that gives learners an insight into the history of the English language. This can serve to make the language easier to understand, and will help some students to determine the connection between certain words.
The definition of certain words that may be difficult to pronounce is also provided on the blog to help improve English language comprehension. A variety of learning styles are mentioned in the blog as well, so users are sure to find a method for retaining words in the English language that will work well. Users can enter their email on the Ultimate Vocabulary website to get updates when a new blog is posted.
Individuals who want to purchase the English vocabulary builder software can do so easily on the Ultimate Vocabulary website, and technical support is available to answer questions and guide students through the installation process.
Learn English Vocabulary Lessons: